Independent Living
San Marino Retirement Community in Westminster, Colorado, offers independent living services for seniors in three different settings: Patio Homes, Estates, and Apartments in the main building. Set on 10 beautiful acres outside Denver and near Arvada, independent living residents enjoy stunning views in a peaceful setting that encourages them to live better than ever, every day. We believe in carefree days, an active lifestyle, and maintenance-free living. Residents live in their own apartment homes, taking advantage of everything our local area has to offer.
YOUR RETIREMENT ADVENTURE STARTS HERE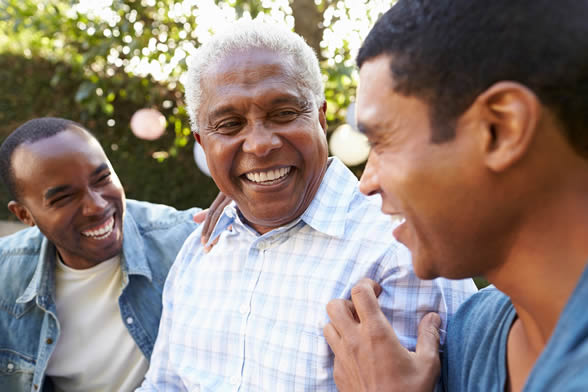 Choosing to make our San Marino Retirement Community your home means choosing health, wellness, peace of mind, and independence. Our Westminster, CO independent living community spans 10-acres, giving residents majestic mountain  views and the best of Colorado living. Spend a day hiking in the mountains, take on the challenge of a Fourteener, or grab some friends for a day of shopping and exploring the local area.
Retiring in Westminster, CO, allows residents to take regular field trips to enjoy the great outdoors, explore new places, and then return home to a resort-style community and carefree lifestyle. Our independent living community located just outside of Denver has plenty of outdoor recreational opportunities, and the state is ranked as one of the healthiest locations in the United States. Westminster and the surrounding area have the highest-rated independent living communities in the state, offering older adults the best of Colorado's active living.
INDEPENDENT LIVING OPTIONS AT SAN MARINO - Read More
San Marino senior living community offers exceptional senior care services where residents are empowered to choose their best life – starting with their accommodations. Residents can choose from apartment homes or patio homes with a variety of floor plans, depending on their preferences and care needs.
Independent Apartments are located in the Village Estates at San Marino. There are twenty-two apartments in this portion of our senior living community, and these apartments are designed for active, independent seniors who enjoy a strong sense of community. Our senior housing community includes patio homes, just one option among our senior living community, which are part of The Village at San Marino campus, where seniors live naturally and independently. There are 19 patio homes clustered around a beautifully landscaped courtyard.
RESORT-STYLE AMENITIES, FIVE-STAR FUN - Read More
Independent living communities are more than places to live. They are a lifestyle choice for older adults looking to simplify their lives. Offering resort-style amenities, healthcare services, less yard work, and fewer overall responsibilities, seniors in independent living communities regain the time they have earned doing what they want to do when they want to do it.
Moving to senior living is a big decision, and it's one many of our residents wish they had made sooner. San Marino senior living and independent living supports an active lifestyle and offers residents a highly engaging social life, the opportunity to pursue new interests while continuing to develop lifelong hobbies – and do it all without worrying about home maintenance, housekeeping, or meal prep. To put it simply, it's a win-win situation.
At San Marino, residents have the best of both worlds – an independent lifestyle, while also having access to services and fantastic amenities that enhance their quality of life. We offer an independent lifestyle paired with assisted services such as three meals a day, weekly housekeeping, 24-hour staff on campus, and an emergency call system. As an added benefit, San Marino offers a continuum of care services, including personalized assisted living and memory care services, as well as memory care apartments, so that residents can stay in our community and live life, even if needs should change over time. Our dedicated staff is well-trained to provide a range of senior care services, while also actively engaging residents. At San Marino, our residents know they are part of a larger family, doing what it takes to engage residents mentally, emotionally, and socially.
FREQUENTLY ASKED QUESTIONS
WHAT ARE THE BENEFITS OF INDEPENDENT LIVING?
Residents in independent living often wish they had made the move to a senior community earlier. Independent living communities offer seniors a less stressed life with more time and freedom to spend time as they wish. Imagine a world without the worry of home maintenance, without watching bills piling up, and without worrying about snow and ice removal. Imagine having a vibrant community right outside your door, while also being near your peaceful and spacious home. Independent living offers it all.
WHAT IS THE DIFFERENCE BETWEEN INDEPENDENT LIVING AND ASSISTED LIVING?
When moving to a senior community, it is important to understand the various levels of care being offered in that particular community. In independent living, residents live independently, without care services from staff. At San Marino, residents can age in place, if care needs do increase over time. In assisted living, residents receive assistance with activities of daily living including dressing, personal hygiene, dining, mobility assistance, medication management, and more.
WHAT ACTIVITIES ARE OFFERED IN INDEPENDENT LIVING?
Residents in independent living have access to resort-style amenities and services. From personal concierge services to a dynamic social and activities calendar, every day in independent living can look a bit different. Some mornings include a group exercise class or a personal training session and maybe a game, or an art class in the afternoon. Some residents may decide to spend the day exploring the best of Colorado living. Residents receive three meals a day in our restaurant-style dining room and can visit our bistro for snacks and beverages throughout the day. Find a new hobby or return to your lifelong interests – the choice is yours at San Marino.
WHY SHOULD I RETIRE IN WESTMINSTER, CO?
One visit to San Marino and you'll know why retiring in Westminster, CO is a good choice. Stunning majestic mountain views, four mild seasons, a focus on health throughout the state, and an abundance of outdoor recreational activities will draw you in. Oh, and did we mention the tax breaks for retirees in the state?
HOW DO I PAY FOR INDEPENDENT LIVING?
There are several ways to pay for senior care and a variety of options that can help people pay for a senior community with a range of budgets. It is important to remember that the majority of expenses in senior living is all-inclusive. You can forget about your utility bills, the majority of your grocery bill, and even your entertainment budget. From private pay to long-term care insurance and using real estate assets, the team at San Marino can help you and your family navigate the financial side of senior care.