Memory Care
HOLISTIC MEMORY CARE IN WESTMINSTER, CO
-Pricing is $6840 per month.
San Marino senior living offers high-quality memory care in Westminster, CO. Caring for older adults with Alzheimer's disease or a related form of dementia, San Marino offers comprehensive and personalized memory care services in a beautiful home environment where dignity is preserved, privacy is protected, and care is prioritized.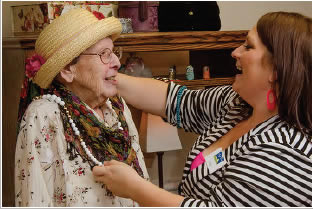 Residents in memory care at San Marino are encouraged to live better than ever by taking advantage of Artegan's signature memory care programs. San Marino memory care residents enjoy tending raised garden beds, attending art therapy classes, and music therapy classes – all in an effort to encourage communication and social engagement, which is critical to the wellness of all seniors – especially those with Alzheimer's or dementia.
San Marino's high-quality memory care services in Westminster, CO partner with families in caring for a loved one coping with cognitive impairment. We know that an Alzheimer's or dementia diagnosis is life-changing and we also know that experienced Alzheimer's care can make all the difference in the well-being of your loved one. Our community's memory care section is set among Colorado's majestic mountains and lies within our assisted living facility. At San Marino, our memory care program is known as Opal, devoted to providing holistic care services for senior residents living with Alzheimer's disease or related forms of dementia.
MEMORY CARE APARTMENT FEATURES
Emergency wireless pull cord system
Private suites feature and private entry door for each resident
Dementia-friendly designed rooms
Window coverings
Secured outdoor patios
Individually controlled air system with digital thermostat
Comprehensive fire safety program including smoke detectors and sprinklers
Refrigerator
Cable TV
WiFi
MEMORY CARE SERVICES
Dementia-friendly menu
Menu for specialized diets
Alzheimer's support groups
Music therapy
Art therapy
Horticulture therapy
Life skills stations
YOUR MEMORY CARE COMMUNITY - Read More
We strongly believe that every person with memory loss can still have a purposeful and meaningful life. We start by learning the life story of each resident. This allows us to understand what drives your loved one, what actions make them feel secure and well-cared for. Our staff members develop lasting and meaningful relationships with residents, knowing their preferences, their motivation, and what they need to thrive on a daily basis. From there, we partner with family and a medical care team, as well as partner providers, to develop a unique and customized care plan centered around seven pillars of wellness, ensuring a holistic approach to memory care. At San Marino, we are committed to caring for seniors along the memory care continuum.
Striving to partner with families who have been caring for their loved ones themselves, or with home care, San Marino's memory care facilities are ready to offer help. Although we look like a new community because of our recent remodel, we are experienced and can be trusted to partner with your family in care. Senior communities specializing in dementia care can help give a family member the space to restore balance to their relationships while still being intimately involved in the long-term care of their loved one.
San Marino senior living has no shortage of amenities in the memory care area of this community. In our dedicated dining room, residents in memory care have easy access to a dementia-friendly menu with courses that can be adapted to meet any dietary restrictions.
San Marino offers a continuum of senior care services so residents can live at San Marino in independent living or assisted living, as well as memory care. All memory care residents also receive daily support services and personal care from our staff members. Our compassionate and caring staff is available around the clock to support residents and families as needed.
For additional peace of mind, our community is located near high-quality medical facilities in the United States like North Suburban Medical Center, Lutheran Medical Center, and Good Samaritan Medical Center. Memory care costs are additional fees to the monthly rent and are based upon an assessment of individual needs and preferences. Our staff will conduct an evaluation of services provided on a regular basis.
FREQUENTLY ASKED QUESTIONS
WHAT IS MEMORY CARE?
Memory care communities are senior living spaces designed to meet the needs of older adults living with Alzheimer's disease or a related form of dementia. The staff at memory care communities are trained to specifically care for people with dementia and know how to engage and communicate with people who have the disease, even as it progresses.
WHAT ARE THE BENEFITS OF MEMORY CARE?
An Alzheimer's disease or dementia diagnosis can be devastating for a family and cause family members to fall into caregiving roles. Memory care can help restore balance in these relationships, allowing adult children to spend time with their loved one as a family. Memory care communities also provide engaging and purposeful activities for seniors with dementia, empowering people with the disease to live a fulfilling and intentional life.
WHAT ACTIVITIES ARE OFFERED IN MEMORY CARE?
Residents in memory care are able to participate in unique activities designed specifically to engage people with dementia. From gardening to art therapy and lifeskills stations, memory care residents enjoy purposeful activities and a gentle structure with the flexibility people living with dementia need. Memory care communities also offer support groups for family members who are coping with the effects of dementia.
HOW DO I PAY FOR MEMORY CARE?